Thursday, January 19, 2006
Wow... what a start to a term...
I had confirmed my courses right from the time i landed in Singapore, yet when the term started i found out from a friend that the possibility of me graduating in 4 years was still very real as he had found out a course in the School of Information Systems (i'm in the School of Business) could possibly be used to substitute the crucial Supply Chain Management course i needed - and as luck would have it the course clashes with one of my other classes, so if i reschedule that class it'll clash with something else, and when i reshuffle that other class it'll clash with yet another class, so i ended up plotting a brand new timetable, so from an original relaxing 3 day week it now became a full 5 day week, 2 days of which i go all the way to school for only 1.5hrs of classes :/ oh well, i'm happy i can graduate in time so i won't complain too much.
So for a whole week i had to pray that i could get my classes coz i'm re-bidding them into the school term so technically i wasn't a student of that class yet so i was obviously not in the mailing list so i was usually ignorant about everything going on in the class.
Well my heart-rate can slow down now coz everything's confirmed :) I just need to take 1 last module in the coming summer term and voila i'm officially a graduate.
I don't really know whether to laugh or to cry really. I meet friends who've already graduated and most of them are wishing they were back in school, and here i am desperate to get
out
of school. Made worse by the fact that i was so nearly going to be a student longer than i had hoped, being able to get out of school earlier's like being eligible for parole.
In any case my stay in school's of mixed reactions, trying to savor my very last official term as a student, yet i (and a select few "leftovers" who haven't graduated) usually end up being the most senior in class - the retirees as we leftovers call ourselves, and more often than not the abnormal enthusiasm some of these youngsters show in class just absolutely disgust us. Made worse by the participation grading system in place here in SMU, so alot of these toddlers make noises in class for the sake of.
In other news, my laptop has officially died. The old ailment of motherboard failure had come back to haunt it, and now that its Medisave in the form of a warranty had expired i have very little intention to go to Fujitsu to request for a repair and possibly be charged a price that might be the equivalent of a low-yield nuclear bomb. So i'm anxiously waiting for the first signs of Spring in China for it to bring about the festivities so that i can finally receive my meagre fortunes from ang paos in Ringgit which i have to halve because i spend in Singapore dollars, in the hope that i can finally scrape up enough to buy a DIY PC to replace the laptop i am so lost and aimless without. The same way a friend of mine calls his car Pressie (its actually his dad's Subaru Imprezza), i think i should start calling my laptop a name, some kinky Japanese name to signify its roots... i dunno, Ai or something (Oh how i'd love to see another friend of mine squirm in his seat when i say that name >:] )...
This is extremely old news but i haven't been posting so here's a backlog. Was in a daze when the term started - i had a rude shock that SMU was actually starting school
EARLIER
than NUS and NTU. So much so i was shocked to find out that my JB outing with the Hobson gang from NZ clashed with my 1st week of school - i was so embarrassed to have to move the outing a day earlier. So i went home on monday night, got ready for the outing on tuesday, came back to Singapore on tuesday night, and attended school first thing on wednesday morning - now u know what i meant by wow... what a start to a term (if this phrase seemed familiar scroll to the top of the page)... The funny bit was that originally the JB outing was to be attended by 7 people : Me, my gf, Rachel, her bf William, Aaron, Tamar & Renyu. Aaron fell ill and couldn't come, and Tamar apparently had been going out too often that week and self-enforced a grounding in an effort to appease her mum and missed the outing, and Renyu came for only half the trip and missed dinner because he had another meeting that night with some other friends. So dinner was between the 4 of us, made all the more irritating because the place we had dinner at (though the food was good), Rachel had already eaten there on a couple of occassions... I racked my brains
hard
to think of good places to eat that Rachel and her Malaysian relatives would not have eaten before sob sob... Sigh well at least my gf and William haven't tried the food there... i sure hope they enjoyed the food, Peking Duck, Lobster Sashimi - with its head fried in Yi Mee, and a couple of other dishes all for about S$20 a person. We had less people this time compared to my previous badminton gang outing when i brought them to the same place - Restoran Tai Son for those who're curious - and there we enjoyed superior economies of scale as we had 11 people for that round, we ordered
significantly
more dishes especially because of the attendance of me and the other 2 Lords of Destruction, properly famished from the long journey up from Singapore, and i believe it amounted to S$11 per person. In any case that is a story for another time. Hopefully the next Hobson JB trip will have full attendance, and that i'll have a clearer state of mind so that i can organize and ensure everything goes smoothly, especially the availability of my mum's car, THEN i can be
sure
we can go to places i'm
positive
Rachel has never gone before, otherwise i'll probably denounce my Malaysian citizenship. Wait, i take that back lest it actually happens, especially since invariably the good places to eat are the well-known ones, or quickly become well-known. Sigh.
P.S Bad Company ex-employees, if you're reading this please let me know when you want to come down for yet another Gastronomy Club fiesta and Blue Sect Club Sharing Session. Snigger.
I just completed
Prince of Persia: The Two Thrones
today. OMG what a game.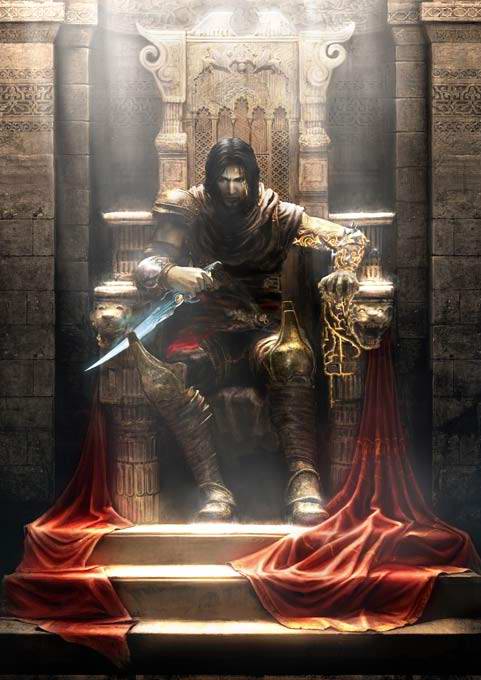 Dr@n|xX at 7:11 PM