Wednesday, October 16, 2002
BIG Thanx to Charmane for all these tests so far! :)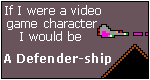 I am a Defender-ship.


I am fiercely protective of my friends and loved ones, and unforgiving of any who would hurt them. Speed and foresight are my strengths, at the cost of a little clumsiness. I'm most comfortable with a few friends, but sometimes particularly enjoy spending time in larger groups. What Video Game Character Are You?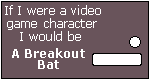 I am a Breakout Bat.


I am an abstract sort of creature, who dislikes any sort of restraint. If you try to pigeonhole me, I'll break the box, and come back for more. I don't have any particular ambitions, I just drift, but I am adept at keeping life going along. What Video Game Character Are You?

Dr@n|xX at 1:27 PM